Spare Parts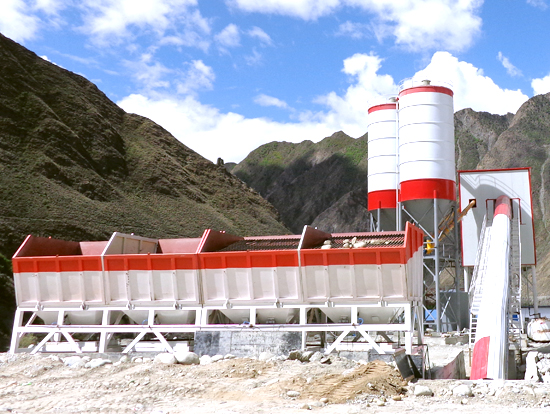 HZS120 concrete mixing plant
Field of application: HZS120 Concrete Mixing Station is a product developed by Jianxin Machinery Co., Ltd. based on the advantages and advanced technologies of various models at home and abroad, combined with the company's experience in producing concrete mixing equipment for many years.
Equipment introduction
HZS120 concrete mixing station, the entire set of equipment including two-position forced shaft mixer, batching machine, cement warehouse and screw conveyor, conveyor belt, computer control room. The JS2000 twin-shaft forced mixer is a compulsory, high-efficiency equipment that can produce a variety of concrete such as plastic and dry hard concrete. It has high production efficiency, short mixing time, and beautiful appearance. It is widely used in construction of large and medium-sized buildings and roads. Bridges and precast plants for the production of concrete products are ideal equipment for the production of commercial concrete. The estimated productivity of the concrete mixing plant is 120m3/h, the power of the mixing master is 74KW, the nominal capacity of the mixer is 2000L, the number of bins of the batching machine is 4 cells, the batching capacity is 3200L, 3×100t, and the capacity of the silo is measured. Accuracy (0 ~ 1200) ± 1% kg, admixture weighing range and accuracy (0 ~ 50) ± 1% kg, aggregate weighing accuracy of ± 2%, unloading height of 3.8 meters, the total installed power is 179.5KW to meet production requirements.
After years of development, the HZS120 concrete mixing plant is a product developed by Jianxin to integrate the advantages and advanced technologies of various models at home and abroad, combined with the company's experience in producing concrete mixing equipment for many years. It is a fully automatic concrete mixing equipment consisting of batching device, aggregate conveying device, powder conveying device, water supply additive system, metering system, stirring system, electric control system and air control system. With the characteristics of reasonable structure, excellent performance, reliable work, convenient operation and accurate measurement, it is applicable to the production of large-scale projects such as roads, airports, ports, hydropower and other large-scale projects and prefabricated components, and commercial concrete, and is widely used in various projects. Construction in progress.
Dancheng 120 concrete mixing station

Lhasa 120 concrete mixing plant

Liuzhou shuang120 concrete mixing plant

Nanyang 120 concrete mixing plant

Yunnan shuang 120 concrete mixing plant

China railway 7 bureau 120 concrete mixing station
Main details
Mixing system
The main machine of HZS120 concrete mixing plant is
JS2000 concrete mixer
. During the mixing process, the agitating blade drives the mixing blade to shear, squeeze and reverse the material in the cylinder to make the material in the opposite direction. It is fully mixed during strenuous exercise, so it has the advantages of good mixing quality, low energy consumption and high efficiency.

Batching system
HZS120 concrete mixing plant uses PLD3200 concrete batching machine. The specific models of this machine are: PLD3200 Sancang batching machine and PLD3200 four-bin batching machine. This type of batching machine is often used as an ideal matching batching device in large-scale commercial concrete mixing plant. The machine can effectively ensure the accuracy of cement, sand, stone and other mix ratios, and the use of electronic weighing system further improves the accuracy of weighing. The top panel of the concrete batching machine can be lowered or removed as needed, which can greatly reduce the labor intensity of the loading part and increase the convenience of construction.

Conveyor system
The screw conveyor of HZS120 concrete mixing plant adopts high quality steel pipe with good rigidity; double pitch blade reduces the degree of material conveying compression; high quality gearbox, heavy duty design, large torque and low noise; optional universal ball joint makes steering adjustment convenient; equipped with high-quality middle and rear bearings, and easy to install;
HZS120 concrete mixing plant belt conveyor belt conveyor is generally used as the aggregate conveying equipment for medium and large concrete mixing plants. It has the characteristics of strong conveying capacity, long conveying distance, simple structure and easy maintenance. It can easily implement programmatic control and automation operating.

Control System
The center of HZS120 concrete mixing plant is the control system. The whole machine is controlled by computer. It can be controlled automatically or manually. It is easy to operate and easy to master. Dynamic panel display makes it easy for users to monitor the operation of each component, and can store and print report data.

Bolted cement silo
The
bolted type cement silo
of 120 concrete mixing plant is designed and produced for the difficulties of packing and packing of cement silo, difficulty in on-site cylinder making, difficulty in transfer of construction site, and super high and super wide transportation. Cement silos (cement tanks) are in line with industry standards. The unloading height is 1.96 meters and 4.2 meters, and can also be processed according to user requirements.
The
Integral-type cement silo
of 120 concrete mixing plant is a closed tank for storing bulk materials. It is suitable for storing various bulk materials such as grain, cement and fly ash. The tank body is equipped with a material level system and can display the location and amount of the material, the hole device can relieve the excessive compaction caused by the material deposition for too long.
The top of the horizontal cement silo of 120 concrete mixing plant is equipped with an electric dust removal device, which can adsorb suspended particles in the tank and reduce the pollution to the surrounding environment. When there is more dust on the dust collector, the vibration motor on the dust collector can be activated by the electric control system to shake off the accumulated dust, which has the advantages of convenient operation, simple use, safety and reliability.

Technical Parameters
project
Maximum productivity
Mixer model
Batcher model
Discharge height
Working cycle time
Weighing accuracy
HZS120
120m3/h
JS2000
PLD3200
4100(mm)
72(S)

aggregate

±2%

cement

±1%

water

±1%

Additives

±1%
| | | | |
| --- | --- | --- | --- |
| project | Maximum productivity | Mixer model | Batcher model |
| HZS120 | 120m3/h | JS2000 | PLD3200 |
Related Products
INFO REQUEST
Tel:18437125333/0371-86598800
Fax:+86-371-86599393
E-mail: jianxin@zzjxcorp.com
Address:West 200m of Guangwu Road and G310 National Way intersection, Xingyang-Zhengzhou City, Henan Province, 450100 China
WeChat:18437125333
INFO REQUEST