Jianxin Machinery Kazakhstan customer visited the factory and signed a MPC vertical shaft planetary concrete mixer on the spot
Recently, a MPC2000 vertical-shaft planetary concrete mixer manufactured by Zhengzhou Jianxin Machinery will depart from the Jianxin plant and be shipped to Kazakhstan.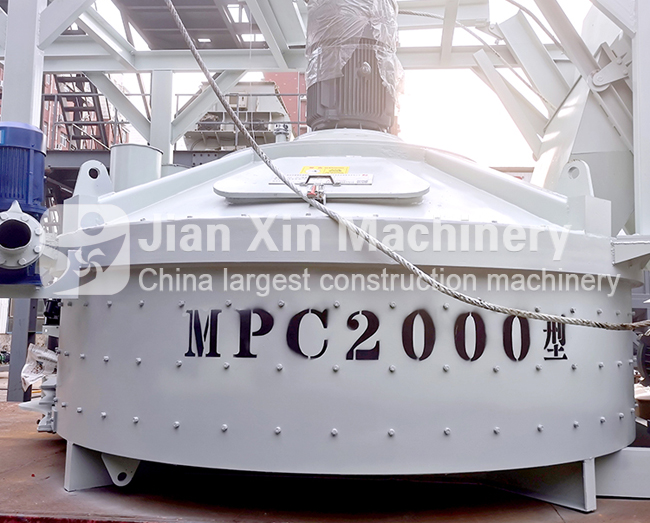 Not long ago, Jianxin Machinery Factory received several customers from Kazakhstan. Accompanied by Jianxin Machinery staff, they visited the production workshop and product exhibition hall of Jianxin Machinery, and finally signed an MPC2000 vertical shaft concrete mixer. A new type of compulsory mixer developed for Jianxin Machinery according to user requirements. Different from the JS forced concrete mixer, it adopts a vertical shaft design. The internal mixing arms and mixing blades are distributed in a planetary manner, which can more fully and efficiently mix the materials entering the mixer. And this design is easier to reduce dust, so it is more environmentally friendly.
With the continuous update and improvement of technology, Jianxin Machinery continues to upgrade its products. According to the different needs of the market and users, it has introduced various types of concrete mixing equipment such as vertical shaft mixers and horizontal shaft forced mixers. In addition to doing well in the domestic market In recent years, Jianxin Machinery has actively deployed overseas market development, guided by the needs of users at different levels in different regions and markets, innovated and improved products according to different construction environments and climatic conditions, and continued to promote product innovation, upgrading and adaptability. Improve and continuously enhance the brand influence of Jianxin Machinery Concrete Mixing Station in the international market.
<<Previous:The construction of a new concrete mixing plant has received frequent praise from users in the Philippines, and continued to win repurchase orders
<<Next:Filipino customer speak highly of Zhengzhou jianxin concrete batching plant , Repurchase new order